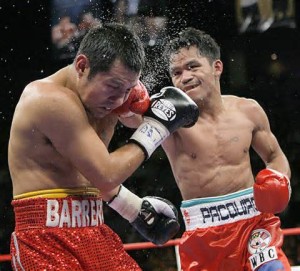 This week has been tough. I've been hearing it everywhere. Injuries, illness and fatigue all playing a part in slowing down our health and fitness regimes. Even in my own training I have been really flat this week after showing good form of late.
When things go bad. I always say:
"This isn't Barrera."
These were the words of Oscar de la Hoya after his charge Marco Antonio Barrera was upset by emerging Filipino slugger Manny Pacquiao in their 2003 Featherweight World Title Fight. Barrera at that stage was king of the featherweights had just been schooled by a wiry guy whom people were only just starting to respect. Pacquiao dismembered the future 'Hall of Fame' fighter, stopping him in 11 rounds.
A tragedy, a shock to boxing analysts, a complete upset. It was all of these. A bad day in the office for one of boxing's brightest stars. Could he recover and continue his legendary legacy?
This is a massive-scale example of what we experience after having a bad training session, race or we just feel slightly off the mark. Nobody wants to have slow days and/or ordinary performances but it really is inevitable. So the skill here is to react like Oscar de la Hoya and say:
"This isn't Barrera… this isn't me."
As Oscar highlighted, a bad day is not a big deal. Don't worry about it. You know you're good enough. You'll be back.
Last night, training one of my boxers we undertook some hard sparring. This guy is very inexperienced and I gave him a bit of a bath, I think he felt like Swiss cheese at the end. I didn't give him a hard time just to make myself feel tough or him feel bad. I wanted him to experience what it was like to be humbled and see how he contended with it.
On conclusion he said that this was his worst sparring ever. When in fact with the increased in intensity and pressure I felt as though it was his best. This was his Barrera moment, he had just been force-fed a cold meat pie and didn't like the taste.
Like De la Hoya I told him that this is just a simple session, no biggy, of which the result doesn't matter at all. The fact is that you just have to keep going forward and know that you have an opportunity to bounce back next time.
Following Barrera's harrowing defeat to Pacquiao he did indeed turn his form around to best another Mexican warrior Erik 'El Terrible' Morales in the final bout of their epic trilogy. Leading into the fight their ledger was square at one fight a piece, in the final war Barrera emerged triumphant and pointed out to the boxing world that he was still a major featherweight contender.
He'd had his bad loss but had the heart to climb the mountain and be great yet again. This is what I'm trying to instill in my own fighters by giving them some real hard lessons so they realise that a bad day at the office is not the end of the world.
You're always going to get hard lessons and have days where you wish you forgot the address to the gym but it's important to embrace these times and know that a win is around the corner.
See the highlights of this epic third fight below. Watch how they hate each other so much that they refuse to touch gloves and try to punch on during the announcements. I love this game.
http://www.youtube.com/watch?v=whJCeRRJBDE