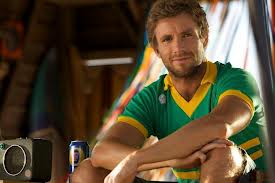 My good friend Tom Oakley is one of my idols. In my eyes he personifies persistence, self belief, dedication and having the will to do the 1% er's to be successful. In case he hasn't told you, Tom's an actor, a reasonably successful one at that. You might have seen him on various TV shows and commercials, his current work is with Foster's in the U.K. and the 'down-on-your-luck-traveling' show, 'Banged Up Abroad,' among others.
When I moved to Sydney and got to know Tom I was awestruck by his determination and will to succeed. Three things about Tom and his approach to his craft should be copied by anyone who is trying to improve and succeed in any field, especially fitness.
He is prepared continue to train and learn, thus strengthening his skill set
He practices winning
Most important, he believes in his process and stays true to his dream.
1) The hardest working man in showbiz:
It feels like every week he's off to another workshop or acting coach seeking new ways to improve his skills. Some of his recent exploits include: Clowning workshop in Paris, Shakespeare Intensive in Boston (studied 14 hours a day), working full-time with some of the best acting coaches in New York and Los Angeles, Classes at the Actor's Centre in London, Chekov Workshop, Larry Moss Intensive, Movement Intensive at world famous Le Coq School in Paris, he's even hired Al Pacino's voice coach. Talk about 'pay the price' to win.
You'll notice that some of these locations are not what you'd call local, cheap to get to and/or live at. Though no price is too big for a person with a dream and a preparedness to make it into something. If you told tom that there's an audition on the moon this Tuesday he'd be there. He might be broke and sleeping on couches for 4 months after it, but he can't and won't let an opportunity pass.
Tom's tenacity to continue to improve on his already impressive standard is astounding. It's an area that is often overlooked by practitioners in every field. How many times have you heard someone say "once I'd become the best I grew complacent?" What about "I've been doing this for 20 years, I don't need to worry about that." Some cats think that if they've been doing something for a while they no longer need to improve. They think that winning becomes automatic, that somehow they are entitled to win. Not Tom. He's forever striving to add more strings to his already comprehensive bow.
Tom's work requires a high level of enthusiasm and motivation. You need to be a self-starter, very positive and willing to give some left field things a go. Ralph Waldo Emerson, legendary American essayist, lecturer and poet noted that nothing great had ever been achieved without enthusiasm. Tom presents this in spades, a fire in the belly that is few and far between.
2) Winners practice winning:
A few months ago I wrote about the 1983 N.C. State Basketball team and their revolutionary coach, Jim Valvano who conducted one practice each pre-season where his team practiced cutting the nets down. They practiced winning. His idea was to video tape the team cutting the nets down then watch the video of 1983 team cutting the nets down after their National Championship victory. His method was to watch the dream, then see how the dream can become reality.
Before an audition Tom goes out and finds the ideal costume for the role he wants to win and wears it to the audition. The same way the Valvano did, Tom promotes himself as the winner before the thing has even begun. He wore a Foster's singlet to the Foster's ad, won that role, last week he borrowed my boxing singlets and head bands for a sport commercial. It seems simple enough, but who would think of it? Most times audition rooms are full of 'wannabe' thespians dressed in tight black tee shirts, stove-pipe jeans and black gym boots. Spare me, it's been done to death. On the contrary, how smart is Oakley? You tell me, not only does he see himself as the champ, he's putting the same image of him in the role inside the head's of the judges. He's a real 'foot-in-the-door' kind of guy.
3) Self Belief, Hang Tough:
I've had the privilege of training Tom while I've been in Sydney and I must say, when coaching people you are often giving more than you get back. That's part of the job, that's fine. However, the gift that Tom gives to me is that he knows what he's doing, he knows where he has to go, he knows how he's going to get there. Most importantly he believes in his dream, he believes in his journey and he believes in himself.
Tom believes in himself when he succeeds, he believes in himself despite his failures and and he believes that his through his work ethic, practice and belief, he will ultimately prevail. From the fat little kid they called Rolly, to the strapping face of Foster's in the U.K. it's been quite a journey. Tom's story is one we should all try to emulate in whatever we are trying to achieve.
Work hard, practice winning and believe until the end.
Tom Oakley I salute you.